Custom HVAC solution beats Houston humidity in updated Spring Valley home
While nearby properties were being torn down and replaced with larger modern homes, the Nuyen family was enjoying their 1960s ranch style house in the Spring Valley neighborhood of Memorial Villages in Houston, Texas. They had hired painters to update the interior in summer 2018 and left for a vacation, and two days later, a fire broke out in the dining room. They came back  to what Don Nuyen described as "a pretty torn up home" and faced a decision: remodel this mid-century modern classic or raze the lot and build new?
Don is a self-described tech guy with a fanatic attention to detail and appreciation for design.
"We decided to do a full remodel instead of a tear down," Don says, and "I decided to be my own general contractor, and I wanted to adhere to the most innovative approaches in building science. I studied how to enclose the envelope of home. I studied home automation and mechanical systems. That's when I learned about variable refrigerant flow units, which are well known in commercial HVAC installations.
"But I really wanted experts to tell me what they recommend, so I began getting bids for heating and cooling, and a buddy who knows me well suggested that I call Rob at Terry's A/C & Heating and said 'he's your speed.' He's passionate about his work and pays a lot of attention to detail."
"I did a ton of research, but I didn't tell Rob 'this is what I want' because he's a pro. I said 'hey this is what our vision is, can you tell us what you think?'"
Nuyen got bids from three AC companies, and all sent quotes for standard HVAC installations. Then he got a recommendation from Terry's A/C & Heating. "Rob wrote a three page document in which he explained that we need variable refrigerant flow unit. He could have sold a regular unit but we were on the exact same page."
In variable refrigerant flow (VRF) systems, the condenser does not come all the way on or all the way off. It has infinite speeds because it senses how much refrigerant is needed and uses just enough to cool the space. When other systems come on at 100 percent, they cool spaces quickly but do not reduce humidity levels.
"In Houston it's super important," Don says. "It helps a ton with humidity inside."
Terry's A/C & Heating installed the VRF system in the Nuyen home in December 2019. Nuyen had worked with his architect to create a mechanical closet in the low rise attic of their home. During the installation, Don noticed an attention to detail that delighted him. "When he brought the drip pans in to sit under the air handlers, and they were rubberized pans, I knew we made the right decision," he says. "And the baffle on the roof was custom made. My buddies come over and I say 'check out the baffle on my roof.'"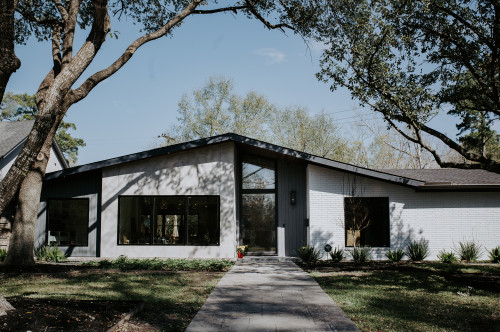 Six months later, summer 2020 was in full force with high temperatures and high humidity. In late June, Don called Rob because he didn't think the new unit was running as it should have been in the dead of summer. The self-described tech guy and AC expert went to work looking at the whole system from its software to refrigerant levels. "I tell you what, Rob must have come out three or four days in a row, he was chasing me down to get it fixed. He's the most resilient person I've run across in this industry."
When Rob diagnosed a leak in the unit, he contacted Carrier immediately to order a replacement. He worked with Carrier to track the unit, which arrived on Saturday, July 4. "Rob came that day and installed it, got it up and running, and he was texting me two days later to make sure it was working."
All the parts and service were covered under Terry's service agreement and manufacturer warranty. "There was zero hassle on the warranty, not even a question about it. All covered," Don says.
"He treated me like I was his family, and essentially I feel like he gave me the best solution for about the same price as a standard solution. I feel like the value was incredible, and I've already recommended them to friends. I'll never use another HVAC person in my life as long as Terry's is in business."
We Can Help
If you need a custom HVAC solution for a home renovation or home remodel, contact Rob Terry at (281) 495-7830. They provide exceptional customer service starting with a comprehensive HVAC quote, equipment warranty, workmanship guarantee, and service before and after the sale.